Zoom Video Communications has disrupted the online meeting market with reliable, high-quality video connecting people on desktops, mobile devices, and in conference rooms. Now Zoom Rooms brings the same flawless video conferencing, clear audio, and one-touch wireless screen sharing to your conference rooms, huddle rooms, executive offices, and training rooms with off-the-shelf hardware.
Integrated with your calendar system, it's just one click to start or join a meeting. This same software-based system includes scheduling display functionality, allowing people to see room availability and book a meeting for any available time that day on an iPad placed outside of the room.
An unrelenting focus on usability
Zoom Rooms tackles the three biggest pain points of the conference room: Starting a meeting, booking a meeting, and sharing content.
HD Video and Audio – Flawless video across desktop, mobile, and room systems
One-touch to join – Quickly join meetings with both video and audio
One-click wireless share – Wireless content sharing with a click of a button
Powerful meeting security – Robust security settings ensure disruption-free meetings.
Optimised for every room size
Zoom makes it easier than ever to scale video to every room. From all-in-one kits and devices for your huddle rooms to customised A/V systems for your training rooms, combine Zoom's cloud platform with the hardware that best fits your need.
Focus/Executive Rooms
Huddle Rooms
Conference Rooms
Training Rooms
Interactive white-boarding capabilities with Zoom Rooms for Touch
Bring interactive white-boarding into your Zoom Meetings so participants can view and co-annotate on a blank whiteboard or over shared content.
Co-annotate across desktop, mobile, and Zoom Rooms
Save white-boarding sessions
Open up to 12 whiteboards at a time
Enterprise-grade wireless sharing integrated into your room
Zoom Rooms allows you to easily share multiple desktops simultaneously in the room and provides a variety of simple, wireless sharing options for guests and people on your network.
One-click proximity share
Multi-share
Option to share via browser
Integrated into room A/V
Included with Zoom Rooms at no additional cost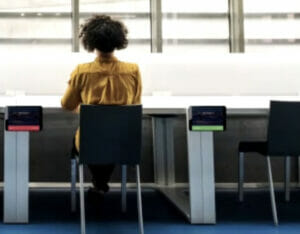 Deploy a meeting space booking system with room utilisation capabilities. Better manage the return to the office through remote scheduling for hot desks and disparate resources.
Digital Signage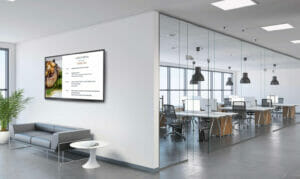 Share images, videos, and URLs across any display around your office. Zoom Room's digital signage feature engages employees by displaying a wide range of content including images and websites throughout your organisation's conference rooms and open spaces; it can also broadcast any Zoom video meeting or webinar to any display.